Home Office & Guest Room
This was an exercise in making a house work to the best of its ability – what to do with a small basement room that needs to be both an office and a guest bedroom? Our clients needed a proper home office, but they also needed a place for grandparents to stay. Some seriously clever work from our carpenter left them with a long built-in desk, storage and a murphy bed – so many amazing things in one space. The bright, fun colours make the space welcoming despite its small basement window. It's a place that's fun to work in and fun to stay in.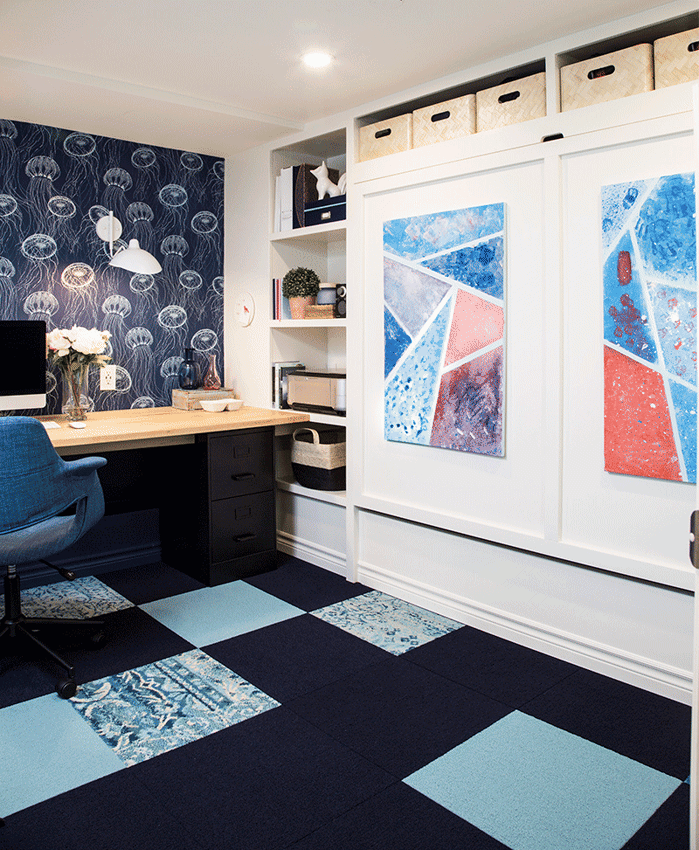 Master Bathroom
Our clients wanted to strike a modern note with the master bathroom of their otherwise traditional home. We divided the generous room into a wet side made up of the sunken shower and freestanding tub; and the dry side where a custom dual vanity and make-up table provide plenty of surface space. A large scale porcelain tile in a Calacutta marble pattern graces both the walls and ceiling. A wood plank "boardwalk" connects the adjoining master bedroom and dressing room.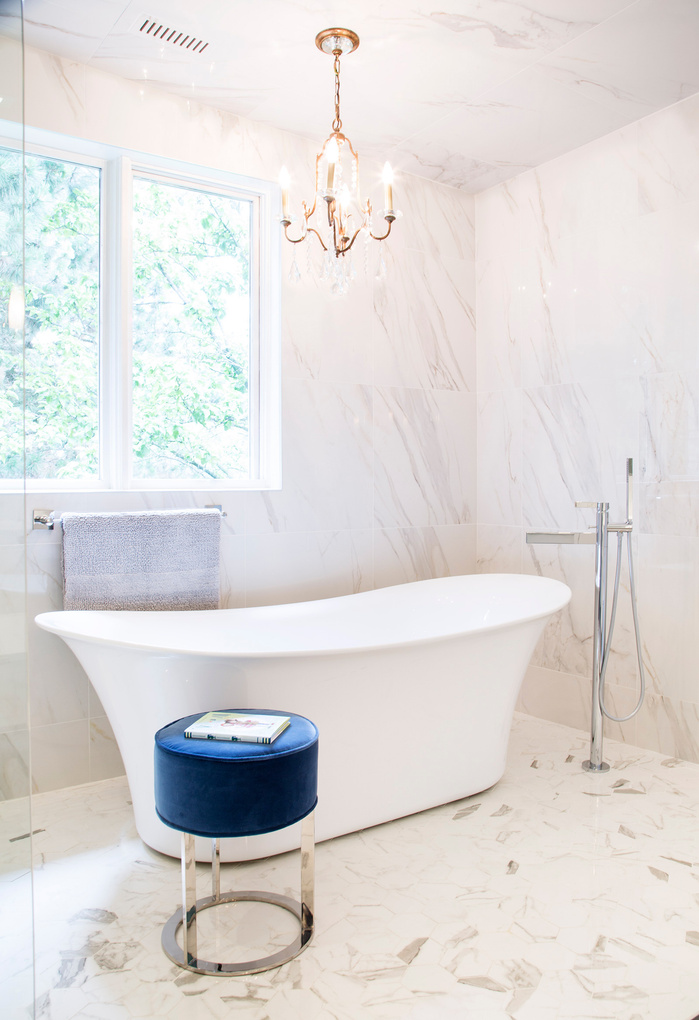 Kid's Bedroom
This super narrow kid's bedroom presented a couple of design challenges: First, finding a bed short enough to fit into the width of the room and offer much needed clothes storage - without having to go to the expense of custom. Careful measuring and some sneaky baseboard removal made this bed work. Second, how to introduce graphic punch without overpowering the small room. Running painted stripes up the wall and across the nine foot ceilings proved to be just the ticket.
Dining Room
As a downsizing empty-nester, our client wanted a clean break from the traditional style of her previous home, but wished to retain some meaningful pieces from her past. To that end, we had the dining table – a gift crafted by her father – resprayed in a handsome teal which became the signature colour of the apartment. Bringing a modern note are spare leather chairs, a Nelson bubble pendant, and a white lacquer floating credenza with a custom walnut top.
Master Suite
This sitting room is part of a master suite which also encompasses a sleeping area, master bathroom, and dressing room. Conceived as parental hideway, the sitting room picks up on the soothing greys, creams, and golden browns in the calacutta marble in the bathroom adjacent. A walnut lounge chair and table – and woodgrained plexi side table – bring the outdoors in, while a hide rug grounds the room and adds a soft natural texture underfoot. A painting, entitled Whatever Floats Your Boat, reminds the homeowners of their beloved seaside vacation home in Nova Scotia.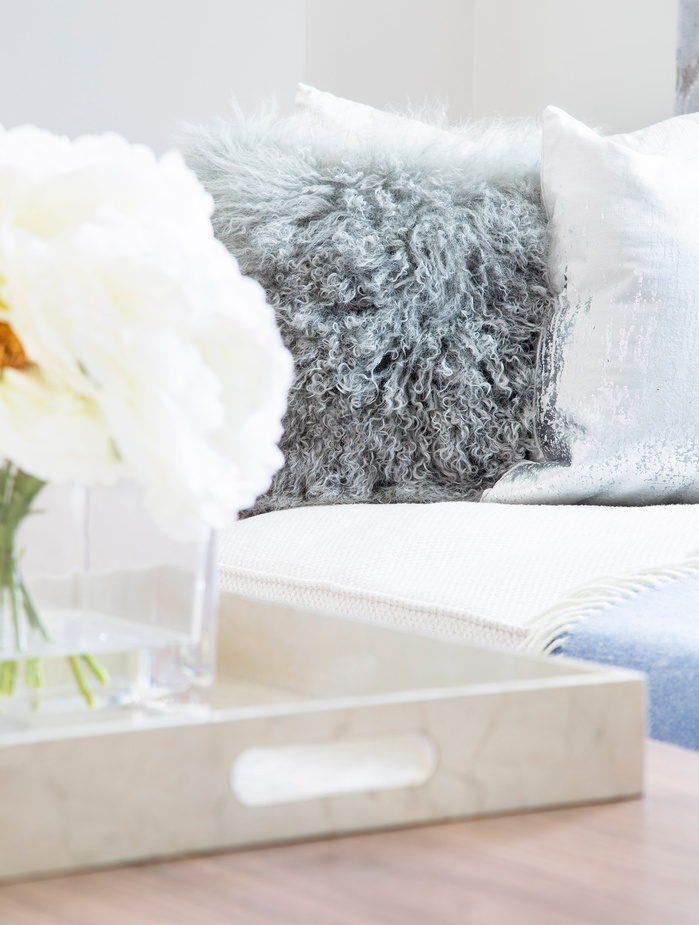 Formal Dining Room
Open plan layouts reflect how many people want to live today. But veterans of open floorplans will tell you that there can be too much of a good thing when it comes to openness, particularly between a dining room and kitchen. By introducing a narrow wall in this client's home, we maintained flow and an open feel but allowed the homeowners to cook with abandon without having the mess spill over into the dining area when entertaining.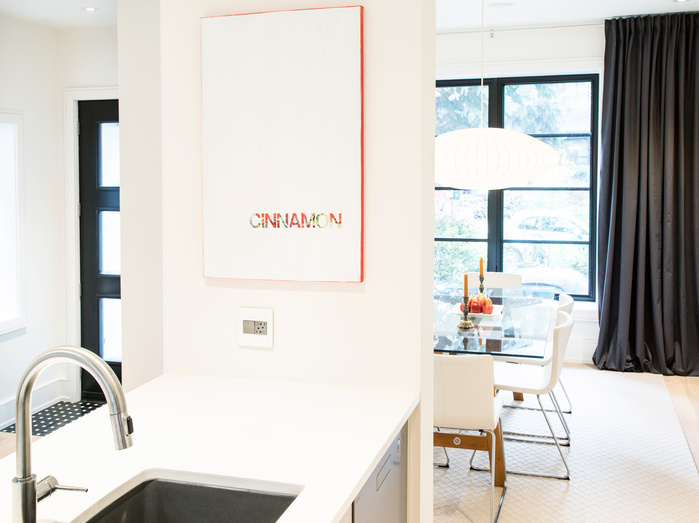 Home Office
There is a difference between an "office at home" and a "home office". Our client wanted something functional, but also fun and funky enough to work with the rest of the house. Dramatic wallpaper to the rescue! Rounding out the eclectic feel of the space is the vintage steel desk and super-ergo chair from Humanscale. A large, functional bookshelf from Ikea gets a lift with custom legs.
Teen Bedroom
Being a teenager is a time of transition, so decorating their bedroom has to allow for maximum flexibility. The core surfaces of this teen's bedroom are neutral, while the accessories and furnishings bring the fun and colour; when it's time for an update, those elements are easily and inexpensively changed. Leaving everyone in the family happy with the result.